با ظهور اینترنت، تولد اصطلاحات عامیانه ی اینترنتی و رشد استفاده از SMS، بسیاری از ما ابعاد کاربردی علامتگذاری انگلیسی را فراموش کردیم. آیا تمایل دارید تا مقاله ی مهمی را برای یکی از کلاس ها یا برای تایید یک سند ادبی و یا برای تقدیم به رئیس خود، بنویسید؟ اگر این چنین است، علامت گذاری صحیح کار درستی خواهد بود. این مقاله را به شکل یک دوره ی بنیادی در علامت گذاری انگلیسی بررسی کنید و گام آغازین زیر را مطالعه کنید.
Punctuation Mark

Use to…

( . ) Period
End a sentence: Dinner was delicious.
( ? ) Question Mark
End a sentence and denote inquiry: What time is it?
( ! ) Exclamation Point
End a sentence and denote excitement or emphasis: Watch out for that tree!
( , ) Comma
Denote a break within a sentence or direct address of a person or group: Mary, listen to me.

Separate any of the following:

– Two or more adjectives: He is a charming, attentive listener.

– Items in a list: Please buy eggs, milk, butter and flour.

– The name of a city from the name of a state: I live in Salt Lake City, Utah.

– Two independent clauses: The waiter still hasn't taken our order, and the play starts in five minutes.

– Direct quotations: Quoth the raven, "Nevermore."

( ; ) Semicolon
Separate two related but independent clauses: I asked Anne to look at my computer; she has a knack for them.

Separate a series of items that already contain commas:

– For our wedding colors, I chose white, the color of innocence; red, the color of passion; and yellow, the color of lemons.

– I have lived in Detroit, Michigan; Paris, France; and Sydney, Australia.

( : ) Colon
Introduce a list.

For Christmas, I would like the following presents: a hula hoop, a hippopotamus, and my two front teeth.

Introduce a statement that expands upon the clause before the colon.

And so, my fellow Americans: ask not what your country can do for you—ask what you can do for your country.

( – ) Hyphen
Add a prefix: Trans-Atlantic flights are costly.

Create compound words: Spider-Man is my favorite superhero.

Write numbers as words: I have lived in this house for thirty-three years.

(– or —) Dash
Make a brief interruption within a sentence or a parenthetical phrase: Johnny asked me—with a straight face, I might add—if he could borrow the car for the weekend.
( " ) Double Quotation
Enclose a direct quotation: "If you pick up a starving dog and make him prosperous, he will not bite you. This is the principal difference between a dog and a man."
( ' ) Single Quotation
Denote possession: I believe that is Allen's pen.

Denote contraction: I know it's his because of the distinct monogram.

Denote a quotation within a quotation: He told me just last week, "I do enjoy this monogrammed pen. My wife said, 'Allen, it isn't like people go around mistaking your pens for theirs all day.'"

( ( ) ) Parentheses
Indicate clarification: Please bring home some real butter (as opposed to margarine).

Indicate an afterthought or personal commentary: Anyone can edit Wikipedia (not that there's anything wrong with that).
الف استفاده از بزرگ نویسی صحیح (Capitalization)
۱ همیشه جمله را با یک حرف بزرگ شروع کنید: مگر اینکه شاعر آوانگارد باشید یا جمله را با اسم یک برند نظیر "iPod" آغاز میکنید، در سایر موارد بایستی هر جمله ای را با حرف بزرگ اغاز کنید.
در اینجا مثال یاز بزرگ نویسی صحیح در آغاز جمله را می بینید:
She called her father over after university.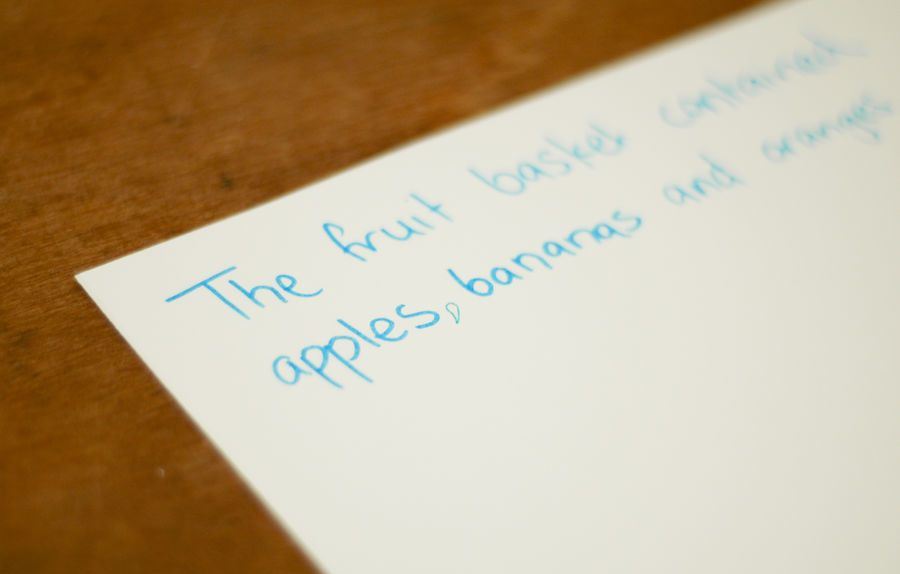 ۲ از حروف بزرگ برای شروع اسامی یا عناوین خاص استفاده کنید. علاوه بر آغاز جملات، حروف بزرگی بایستی در ابتدای اسامی و عناوین خاص بکار روند. اسامی خاص، اسامی افراد خاص، مکان ها و اشیاء است. عناوین شامل نوعی از اسامی خاص هستند که اسامی شاخه های هنری نظیر (کتاب، فیلم،موسیقی و غیره)، موسسات، مناطق جغرافیایی و غیره میباشند. عناوین میتوانند عنوان های تجلیلی باشند (برای مثال Her Fred, Mr. President و غیره)
عناوین و اسامی خاص شامل بیش از یک واژه هستند که بایستی حداقل یک واژه با حروف بزرگ داشته باشند مگر برای لغات کوچک و جزء نظیر "the," "an," "and," و غیره. اولین واژه از یک عنوان بایستی همیشه بصورت بزرگ نوشته شود. (بجز استثنای "نام برند")
در ادامه مثالهایی از حروف بزرگ استفاده شده برای عناوین و اسامی خاص میبینید:
Genghis Khan quickly became the most powerful man in Asia, if not the world.
In her opinion, Queen Roberta's favorite museum in the world is the Smithsonian, which she visited during her trip to Washington, D.C., last year.

۳ از حروف بزرگ برای کلمات اختصاری استفاده کنید. یک کلمه اختصاری یک واژه ی ابداعی است که با اولین حرف بزرگ در هر واژه در یک عنوان یا اسم خاص تشکیل شده است. کلمات اختصاری اغلب برای کوتاه کردن اسامی خاص طولانی استفاده شده اند که بصورت روزانه زیاد از آنها استفاده میکنیم. گاهی حروف یک کلمه اختصاری با فاصله از هم جدا میشوند.


در اینجا مثالی از کلمات اختصاری با حروف بزرگ میبینید.

The CIA and the NSA are just two of the USA's many intelligence agencies.
ب استفاده از نشانه های علامت گذاری در انتهای جملات
۱ استفاده از یک نقطه یا توقف کامل برای به پایان رساندن جمله ی خبری: هر جمله ای شامل حداقل یک نشانه ی علامتگذاری است. یک نشانه در انتها وجود دارد. رایج ترین نشانه در پایان جملات ، نقطه یا همان توقف کامل است. این نقطه توپر ساده و کوچک برای نشان دادن پایان یک جمله استفاده میشود که اغلب جمله ای خبری است. بیشتر جملات خبری هستند. هر جمله ای که یک حقیقت را بیان میکند یا یک ایده را توضیح و تفسیر میکند، خبری خواهد بود.
در اینجا نمونه ای از توقف کامل را میبینیم که بصورت صحیح در انتهای جمله استفاده شده است.
The accessibility of the computer has increased tremendously over the past several years.

ویراستاری متن انگلیسی ، ویراستاری توسط فرد native انگلیسی زبان، علامت گذاری در انگلیسی ، Punctuation ، ادیت متن انگلیسی ، Edit English Text ، ویرایش آنلاین متن انگلیسی ، آموزش ویراستاری ، علائم و نشانه ها در ویراستاری
۲ از علامت سوال برای انتهای پرسش ها استفاده کنید: علامت سوال برای انتهای جملات سوالی بکار میرود. از این علامت برای انتهای یک سول، پرسش یا تحقیق و تفحص و جستجو استفاده کنید.
در اینجا مثالی از این علامت بکار رفته در انتهای جمله میبینید:
What has humanity done about the growing concern regarding global warming?
۳ از علامت تعجب برای پایان جملات تعجبی استفاده کنید. علامت تعجب  یک تاکید قوی حاکی از تعجب و حیرت است. علامت تعجب برای انتهای جملات تعجبی بکار میرود که همچنین برای بیان کوتاه احساسی که از یک جمله ی حتی یک کلمه ای بر می آید.
در اینجا دو نمونه از کاربرد علامت تعجب در انتهای جملات داریم:
I can't believe how difficult the exam was!
Eek! You scared me!
در ادامه این سلسله مباحث جامع پیرامون آموزش ویراستاری، با ما همراه باشید. . .
اگر هنوز ویراستار انگلیسی ماهری نشده اید
اگر فرصت ویراستاری سفارشات خود را ندارید ، نگران نباشید!
میتوانید از با کیفیت ترین خدمات ویراستاری و ترجمه در تنها دارالترجمه تخصصی و دفتر فنی  آنلاین کشور با تعرفه دانشجویی بهره ببرید.
سفارشات خود را به ما بسپارید.